There's more climate change news this week, some of it good and which I'll get to in a few days.  First, though, the bad news.  According to the National Oceanic and Atmospheric Administration (NOAA) May 2014 was the hottest May ever recorded, and we have records dating back as far as 1880.
The combined average temperature over land and ocean surfaces was 1.33°F higher than the 20th century average, and the average temperature over land alone was 2.03°F higher.
The period of March through May was the third warmest on record, with global land surface temperature 2.27°F above the 20th century average.
he period of January through may was the fifth warmest on record, with a global land surface temperature of 1.19°F above the 20th century average.
Here's a map showing the global temperature variations for May in degrees Celsius.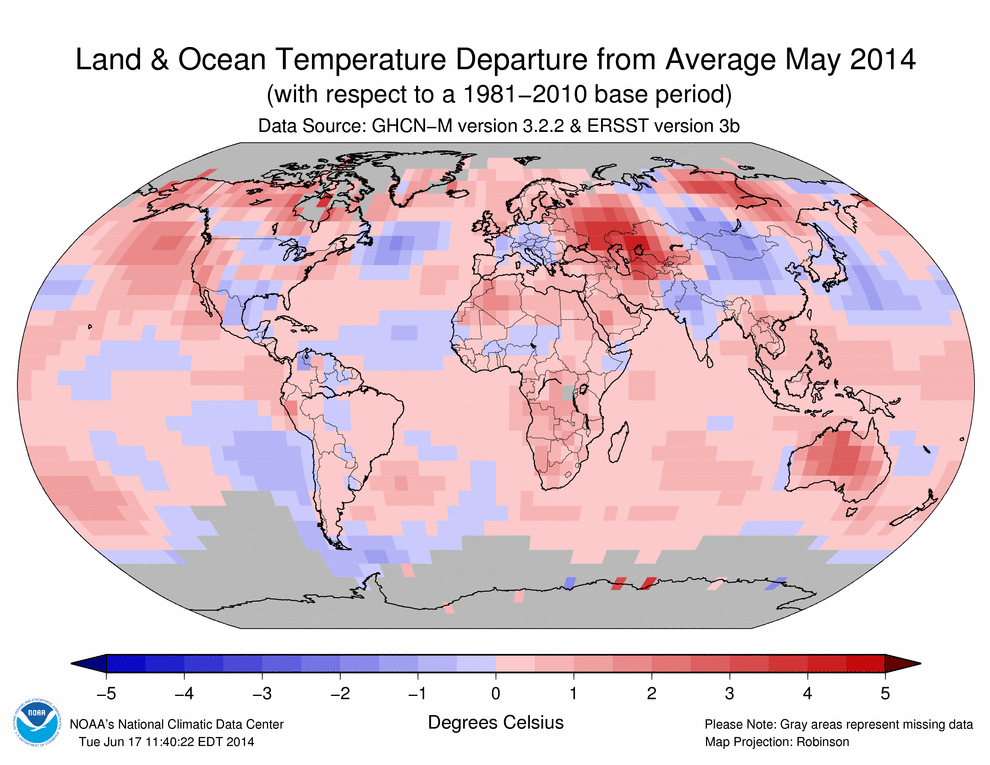 Combined with the just released report Risky Business, this is indeed bad news.  This report was commissioned by a new organization of the same name that was started by former Treasury Secretary Henry Paulson, former New York City Mayor Mike Bloomberg, and hedge fund manager Tom Steyer.  The report warns that, among other climate driven issues we'll face by mid century, the number of days over 95°F will nearly double to between 45 and 96.  Outdoor laborers, including construction workers, may be unable to work for days or weeks at a time because of the extreme threat of heat stroke and even death due to the high heat.
Why do I keep going on about climate change?  Because it's real, it's here, and it does and will affect the lighting profession.  As long as we are still struggling to control greenhouse gas emissions to limit climate change we should expect to see it impact lighting designers and manufacturers.  First, we should expect to see expanded requirements for, and limitations on, lighting systems.  Lower lumen power densities (LPDs), more requirements for sensors and controls, and more requirements for load shedding all seem inevitable.  On one hand that may be good for the profession because fewer and fewer architects and interior designers are going to be able to execute their own lighting designs (more work for us!).  On the other hand it will probably be a struggle to get clients to pay us more for the additional work.
The second impact this will have on our profession is that of credentials.  Today, lighting designer credentials are entirely voluntary except for the lead designer on federal projects, who must hold an LC.  I think we can expect more clients to ask for higher levels of green certification for their buildings, whether that is LEED, Green Globes, Energy Star or some other.  To demonstrate that we have the education and training to design these buildings, green credentials are going to be more important in the near future.  Designers who do not hold a LEED Green Associate credential, at a minimum, will be at a disadvantage.  So get ready.  The work, and the rewards, of being a lighting designer are changing.